applemooncreations
I've been folding while I've been quiet here. I can say absolutely that I love it. The math in my design is still a little overwhelming at times, but in staring and thinking about it over and over, I have figured some things out.
After posting the first picture, I looked at the pattern's picture. Mine did not look the same.  
I reread the directions, and studied the picture and refolded for a clearer/sharper look.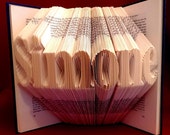 Bookfolding Etsy Shop
I was not just Debbying it… the directions tell you to fold on the mark. Until doing it, one might not realize all the angles you can make that fold in. So, the first D I didn't even think about it, just folded. Then upon closer look, I decided they went to the same place and refolded.
OH YEAH! much improved (far right – beginning of m)
In further thinking and looking……
View original post 345 more words